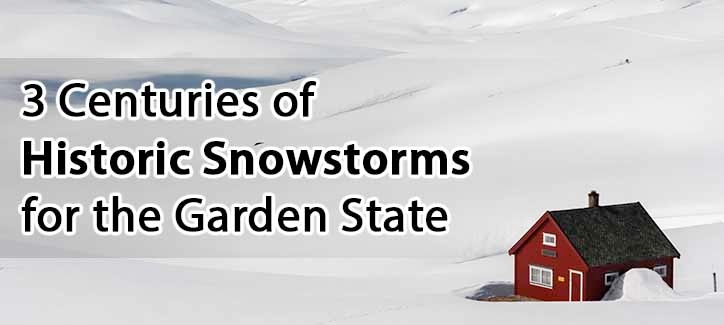 The winter season has finally arrived, bringing us the first snowfalls of the year! While the snow brings on joy and peace as children gear up to go play and families curl up by the fire to watch the snow cover the ground, the snow can also create hazardous situations that we all must be aware of, prepare for, and always remember.
For the past three centuries, cold temperatures, snow, ice and high winds have been accumulating into record breaking snowstorms for the state of New Jersey, leading to a number of home destructions, injuries and fatalities. While towns, buildings, families and homes are mended over time, the devastation of these blizzards are never forgotten. Below are some of the biggest snowstorms to ever hit the Garden State:

The Great Blizzard of 1888
This devastating storm resulted in more than $20 million in property damage and 400 fatalities, resulting in the worst death toll for a winter storm in US history. The Great Blizzard of 1888 dumped a total of 40-50 inches of snow on the state of New Jersey burying cars, houses, and trains and sinking 200 ships across the states of Connecticut, Massachusetts, New Jersey and New York.

The Great Blizzard of 1899
This blizzard, also known as the Great Artic Outbreak of 1899, started in Florida on February 11, 1899, and moved north, eventually dropping 34 inches of snow in New Jersey. What made this storm historic was both the extent of the United States it affected, and the extremity of the winter weather. Reports indicated that record breaking low temperatures swept along the east coast, with Tallahassee, Florida having a recorded temperature of −2 °F, the only recorded instance of a sub-zero Fahrenheit temperature in Florida history.

The Storm of The Century, 1993
This storm was both a blizzard and a cyclone that created mass destruction from Cuba all the way to Canada, resulting in 310 fatalities and $6.6 billion in damages. New Jersey unfortunately was right in the middle, taking on a huge portion of those damages. The Storm of the Century left millions up and down the East Coast without power for weeks, and generated the first and only complete shutdown of all airports along the east coast.

The Blizzard of 1996
From January 6 to January 8 in 1996, one of the most devastating snowstorms struck the U.S. East Coast, causing more than 150 fatalities. The state of New Jersey recorded its second-largest snowfall in Edison, where 32 inches fell (the greatest single storm record being 34 inches in Cape May during the Great Blizzard of 1899). All roadways were shut down, including the entire New Jersey Turnpike for the first time in the Turnpike's history. Over two-thirds of the state was buried under 2 feet of snow, making this storm the state's most disabling snowstorm of the 20th century.

North American Blizzards of 2010/2011
The state of New Jersey declared a State of Emergency on Sunday, December 26, 2010, as Central and Northeastern New Jersey were hit the hardest with snow totals of 1 to 2.5 feet. The highest amount recorded was in Brick, where 36 inches of snow accumulated. Blizzard Warnings were prompted for eastern New Jersey, while Winter Storm Warnings were issued in the western portion. Another blizzard hit in February of 2011, also referred to as "Snowmageddon", where Snowfall amounts of 8 to 12 inches were tallied through eastern New Jersey and 3 to 8 inches in coastal areas of New Jersey. While Snowmageddon had a major impact on New York, Pennsylvania and other states, New Jersey was blessed with a break compared to December's blizzard blast.

Snowstorm of 2016
Taking placing from January 22nd through January 24th of 2016, this storm dropped more than 24 inches of snow on several parts of New Jersey, categorizing itself as a historic blizzard in NJ history. Significant coastal flooding took place, where tides at Cape May reached a record of over 9 feet. More than 50 people were required to evacuate in Atlantic City. At least 150 homes were flooded, and several damaged by strong winds. The Port Authority of New York and New Jersey closed bridges and tunnels, and travel was banned for Newark for two days due to the hundreds of snow-related accidents resulting from this snowstorm's wrath.


Storm Damage Assistance
For tips on how to prepare for Storm Damage or information if your home has been impacted by a snow storm, contact us at 888-831-5011 or click here.