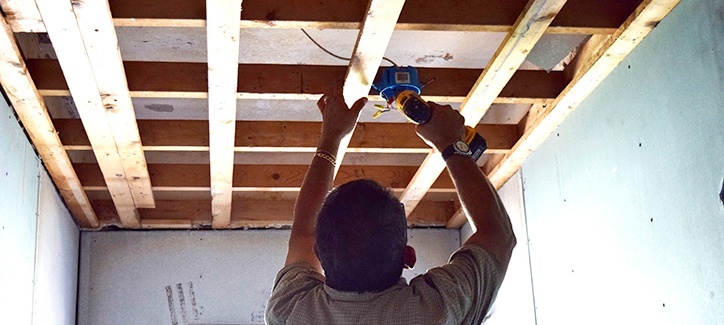 As a restoration company licensed in New Jersey and Pennsylvania, we understand that local weather patterns have the ability to cause remarkable damage to a person's home and/or business. Typically, damage can be caused by tropical storms, hurricanes, and even tornados consisting of high winds, lightening strikes, fallen trees, and heavy rain, which can be extremely frightening for you and your family.
Cornerstone Appraisal and Restoration Services is fully aware of the devastation and financial hardships that can be brought on by severe weather conditions. We are here to make the restoration process simple and cost effective. Our goal is to return you and your family to the comfort of your home and lifestyle as quickly as possible.
With more than 100 years of combined construction experience, we deliver expert, quality-driven, cost-effective restoration services to repair, rebuild and restore your property. Cornerstone provides services for all sorts of storm damages from wind, water, snow or ice. We value the privilege to restore your home to its pre-loss condition or to improve on the quality of the design at your specifications.
The extent of our repair services is singularly defined by each individual claim.
Our Process for the Insured
Secure the property from further damage (emergency board-up, water extraction, etc.) if necessary.
Assess the scope of damage as soon as possible.
Communicate back and forth between you and the adjuster, ensuring that all information relating to the loss is exchanged in detail.
Contact you the same day the assignment is received.
Our trained and certified project managers will prepare an estimate using insurance industry software. This will expedite the approval and repair process.
Once estimate is approved, we apply for all building permits.
After obtaining Access and Authorization, the restoration work begins.
Open communication is maintained throughout the project until work is completed to property owner's satisfaction.
From start to finish, we will work together to restore your home or other structure to original or improved condition, quickly and meticulously.
Let Us Help
No one is ever prepared for the overwhelming experience of property loss or damage. We can help. Allow us make your house a home again!
For a list of professional references please contact: info@cornerstone-restoration.com
If your home or building suffers damage, call your insurance provider and call Cornerstone Appraisal & Restorationat 1-888-831-5011.