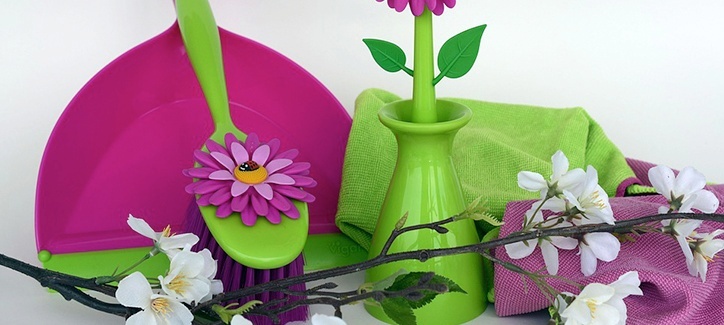 The season of warmth and sun is finally here to stay, and most of you may have that spring cleaning fever kicking in − making you want to air out the whole house and start the season off fresh. The question is: where do you start? To make your spring cleaning chore as easy and painless as possible, here is an organized checklist made simple to get you off to the races!

Organizing - Before you can begin cleaning, getting organized is number one!
Declutter: Get rid of items that you no longer use, whether they are articles of clothing, toys no longer played with, old paperwork piling up on your desk, canned food in your pantry, or miscellaneous items in your drawers, it's time to say goodbye!
Resituate: Again, in regards to all and any items in your house, put them back where they belong! Every drawer, closet, play chest, corner, and room should contain only the items that belong in that designated area. This may mean reorganizing your wardrobe, office space or kitchen cabinets. Whatever space that may be, make sure you have everything orderly, so you can start the season off knowing where everything is!
*Outside: Time to go through your shed! Get rid of that broken rake, the discolored flower pots and that old raft with a hole in it. Organizing your outdoor furniture and supplies will allow you to see what you have and what you don't have, and will ensure that your back and front yard will have a nice fresh look to it, rather than a broken-down look.

Cleaning – Now that you're organized, it's time to shine!
Room to Room: By going room to room, you will be able to confine your accomplishments into one area at a time. For example, clean your kitchen's cabinets, stove tops, refrigerator, appliances and counter tops. Finish your cleaning in the kitchen by sweeping and mopping the floor – but don't go floor crazy and start cleaning all the floors in your home. Cleaning the house task by task rather than room by room will wear you out. Segmenting it out will save you energy and minimize the risks of letting an un cleaned area slip through the cracks!
*Outside: Time to put those organized tools and supplies to work! Hose off all your outdoor furniture, get those cushions cleaned, and start power washing! Decide on any new landscaping looks you would like to go for and get them started sooner than later. If you put it off, you will most likely start the project mid-season and then get side tracked with other sun and fun filled activities, leaving your project half complete with a big mess.

Checking - It's been a LONG winter!
Water/ Electric/ Gas: Check the HVAC systems in your home and make sure air filters have been replaced or cleaned. If your air conditioner needs servicing, the sooner you call and book your appointment, the sooner you will get it done. Also check your water heater for signs of corrosion. Check all your pipes and scan the entire house for any leaks, mold, cracks etc. The best places to check for leaks includes the attic, crawlspace, and behind the washing machine. Don't forget to clean out your chimney and fireplace to avoid any buildup or house fires!

*Outside: Inspect your roof for any broken or missing shingles. While doing this, you can simultaneously clean out your gutters and ensure that your gutters are securely attached to your home. Again, it has been a long winter, and ice, snow or dirt could have loosened or blocked up your gutters, which could lead to water leaking into your home or your property flooding.
Giving your home a good spring cleaning before the summer starts is beneficial or various reasons. For one, you will feel much more refreshed and prepared for a fun filled summer knowing your home and living style is organized and clean. Most importantly, spring cleaning allows you to get rid of the winter season's remains and assess what needs to be fixed or replaced. The winter season can leave behind unforeseen damages that may cause further, more costly damages to your home in the future! Avoid those risks and kick off summer the right way!
No one is ever prepared for the overwhelming experience of property loss or damage. We can help. Allow us make your house a home again! For a list of professional references please contact: info@cornerstone-restoration.com If your home or building suffers damage, call your insurance provider and call Cornerstone Appraisal & Restoration at 1-888-831-5011.
Learn more about Restoration Services