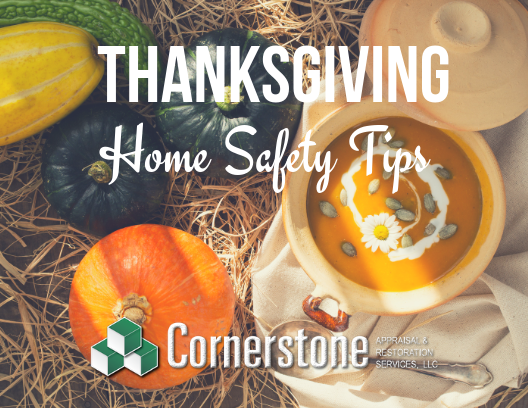 Arguably the country's most favored and celebrated holiday; Thanksgiving rejoices in being thankful for family, friends, and a bountiful year. There is a plethora of fixings, trimmings and frills that are offered at the Thanksgiving feast but unquestionably the centerpiece of dinner, the turkey, requires the most planning and preparation. The conventional way of roasting a turkey as well as newfound trends such as turkey frying have become popular and widespread in recent years but it is important to remember that this process can be a dangerous fire hazard if not done appropriately.
According to the U.S. Fire Administration more than 4,000 fires occur each Thanksgiving Day with the majority of these fires taking place in the kitchen. This makes Thanksgiving Day the most prevalent time for household fires. With this in mind it is important to use a timer and routinely check the turkey and side-dishes. It is crucial to never leave the cooking appliances unattended while cooking whether frying, roasting, baking, grilling, sautéing, boiling etc., particularly if you are frying the turkey!
If you are planning on frying a turkey this year there are a few guidelines that are important to follow. The first rule of thumb is to set up your frying station somewhere outdoors on a level surface and away from flammable objects. Another good idea is to set up a "safe zone" perimeter that children and pets are forbidden to cross. Next, remember to always fully thaw the turkey as frying a partially frozen turkey can cause oil splatter. Another safeguard to practice is to determine how much oil is needed before placing the turkey in the pot. To determine this, it is advised to initially perform a trial run with water instead of oil so that you know exactly how much oil is needed before heating.
Additionally, there can be fire hazards with cooking a Thanksgiving dinner the traditional way. As noted, it is customary to have an abundance of sides cooking alongside the turkey. Therefore, it is important to insure the electric cords from various cooking equipment are at a safe distance from ovens, stoves, ranges, roasters, heating plates, microwaves, etc., to prevent overheating. Should there be a cooking appliance fire it is important to know precisely what to do. First and foremost, turn the cooking appliance off and call 911.Then proceed to cover the fire with a lid and use a fire extinguisher. Never attempt to use water or flour to try and snuff out the flames as this could result in an up-surge creating an even greater fire hazard.
In conclusion, double-check and make certain your smoke alarms and fire extinguishers (Please be aware; more than 40 million fire extinguishers made by Kidd, according to a notice from the U.S. Consumer Product Safety Commission, are being recalled because they may not work in an emergency.) are up-to-date, operational and functioning properly. Moreover, if you are using a natural gas stove be mindful of carbon monoxide build up. Always remember to routinely open windows to circulate fresh air and run vents in the kitchen.
Happy Thanksgiving to all!!!