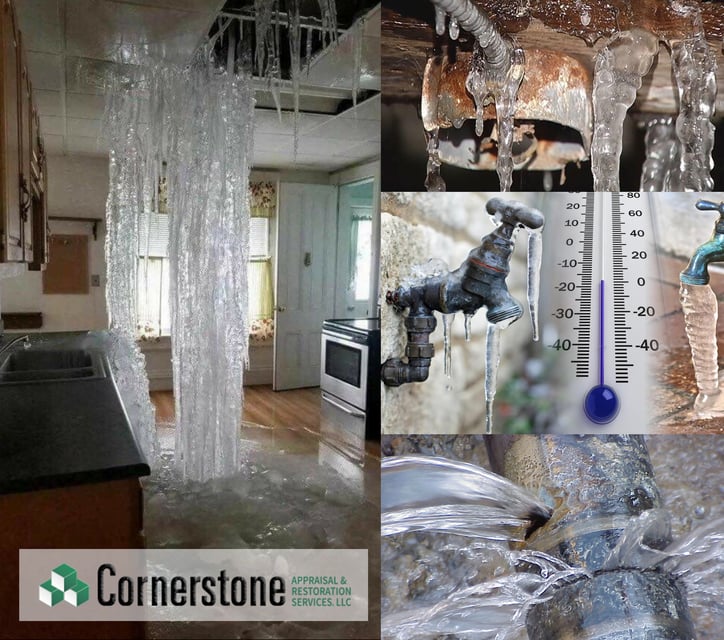 Frozen pipes can cause tremendous damage to your home. When water in a pipe freezes, it expands and puts immense pressure on both metal and plastic pipes ─ and when the pipe breaks, it could potentially release a cascade of water into your home, causing mass amounts of structural damage. According to the Institute for Business and Home Safety, claim payments by all insurance companies in the past decade for those kinds of losses have exceeded $4 billion.
Without major upkeep for the home, which is far too common and often seen in the brutal cold during the winter months, are frozen pipes. Frozen pipes, and the cracks that form as a result, are not easily repaired and can end in disaster. Once a pipe is frozen one cannot simply just call a plumber for a quick fix. Cracked frozen pipes can cause major flooding causing costly structural damage. Fortunately, there are plenty of preventative measures to practice in order to avoid freezing pipes so that you and your loved ones do not have to endure the devastating implications.
First and foremost, it is crucial to distinguish which pipes are at the utmost risk of freezing, for example, exposed interior plumbing pipes in areas such as the garage and attic. Usually, inexpensive foam pipe insulation can help solve this issue, however, in the event that temperatures are threatening record lows one might want to go for wrapping their pipes in thermostatically controlled heat tape. These two preventative measures can be considered the building blocks of keeping your pipes from freezing and should be the first step in protecting your home from such mishaps.
Other precautionary actions include but are not limited to:
Keeping the heat on low when you are not home. While this may sound pricey, it will unquestionably cost less than a freezing pipe bursting and causing massive structural damage and flooding. Actually, keeping your heat at a very modest 50 degrees Fahrenheit is likely good enough to keep the water in your pipes from freezing.
Seal up cracks and holes. One should caulk any holes or cracks near pipes. By doing this you can help keep the cold air out and keep the warm air in.
Keep your cabinet doors open. This will let warm air circulate around supply lines that are usually located behind and in between cabinets. Before using this preventative measure, and for the safely of your children and pets, always remember to remove any cleaners, chemicals and poisonous element.
When weather conditions are extremely cold outside let the cold water drip from faucets servicing pipes most susceptible to freezing.
Identify locations of shutoff valves so that if a pipe does burst you are ready to stop the flow of water right away.
If you are going to be away for an extended period time, it is always wise to turn all the water in your home off at the main or meter so that in the event of a burst pipe, the water won't run for a week and you'll have a nice warm and dry home to return to.
Being mindful of these preventative and active measures during the winter season are highly recommended when trying to avoid the misfortune and calamity of freezing pipes. Last of all, if you own a home or building that is vacant during the winter months it is recommended you winterize the structure.