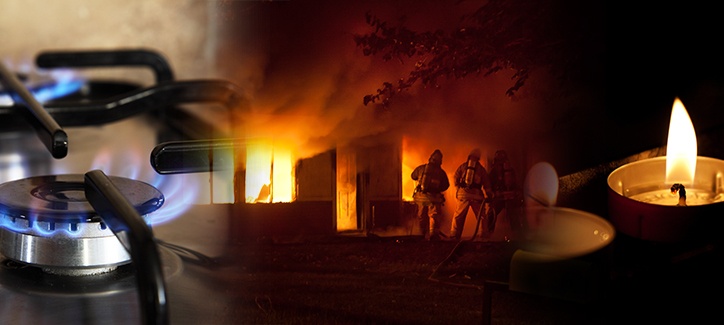 Fortunately, a house fire is not something that everyone has experienced in their lifetime. Unfortunately, most do not realize that house fires are more common than people think. According to The National Fire Protection Association (NFPA) there are more than 360,000 home structure fires each year, resulting in about $6-8 billion dollars in damage.
As the weather gets colder, people will begin to spend more time indoors and in their homes, thus, increasing the chances and risks of a house fire occurring. With this heightened risk, it is imperative that you know how to prevent a house fire, as a majority of them are preventable with the proper care, vigilance, and wisdom of the top main sources of these devastating tragedies.
Here are the top 5 most common causes of house fires:
#5 Candles
Candles are known for setting the mood, creating an elegant ambiance, and filling people's homes with an assortment of pleasant aromas. However, they are also the main cause of many houses and commercial buildings going up in smoke. Leaving a candle unattended in a room may seem harmless, but many people aren't aware that it takes less than two minutes from the moment a fire starts to the point where a room is completely in flames.
Remember to:
Blow candles out before you leave the room.
Keep anything flammable at least 12 inches away from burning candles.
Position candles where they cannot be accidentally brushed or pushed over by pets or people.
#4 Smoking
Although the number of smoking-related fires has dropped by 73% from 2008 to 2011, according to a 2013 NFPA report, smoking indoors continues to be one of the top main causes of a house fire starting. Most of the time, when a house fire is caused by smoking, a cigarette butt is not properly or fully put out. A cigarette butt can stay alit for over four hours and can burst into flames if it comes into contact with any flammable items.
For smokers, remember to:
Smoke outside as much as possible.
Emerge the cigarette butt in water after smoking.
Empty Ashtrays constantly.
Never put a cigarette out in anything else besides an ashtray when indoors.
#3 Electrical Equipment, Heaters, & Lighting
Especially in our world today, a surplus of electrical equipment and wires run throughout almost every home in the United States, leading us to our third top main cause of house fires. Wires become engulfed in flames for a number of reasons, including equipment malfunctions and misuse, overloaded extension cords and circuits, lamps and heaters left on all day/night, etc.
Remember to:
Unplug things before you leave the house that aren't in use.
Make sure that you use outdoor electrical equipment outside and indoor electrical equipment inside.
Never leave a light or heater on for multiple hours unattended.
NEVER LEAVE CHRISTMAS LIGHTS ON OVERNIGHT OR UNATTENDED!
Check electrical equipment often and make sure wires are not overheating.
#2 Clothing Dryers
Most are aware that dryers are known for causing house fires ─ yet, people still do not make it a priority to maintain and clean the lint tray in their dryer machine. According to the NFPA, in 2010, there were about 16,800 reported U.S. non-confined or confined home structure fires involved with clothing dryers, resulting in 51 civilian deaths, 380 civilian injuries, and $236 million in direct property damage.
Remember to:
Clean out the lint tray in your dryer after every use, as well as the vent pipe and surrounding area around the lint tray.
Never run the dryer without a lint tray.
Check wiring every so often to ensure nothing is malfunctioning or overheating.
Keep area around the dryer clean and free of flammable items.
#1 Cooking
Cooking ─ a daily household activity in homes across the entire world ─ is the most common source of house fires. Why? Because we tend to get distracted, especially at night after we have had a long day. Pots and pans can over heat and/or be forgotten about. Food surrounding cooking material as well, can easily catch on fire. Like the candle, a stove top flame is an open flame that can easily ignite items surrounding it. According to the NFPA, 40% of all house fires, or an average of 156,600 per year, start with cooking accidents, causing approximately $853 million in property damage.
Remember to:
Never leave the kitchen when you are cooking.
Clean your stove top/oven/microwave after every use.
Keep all ingredients, cook wear, and other miscellaneous items away from the stove when cooking.
Wear short sleeves when cooking in the kitchen.
Keep small children away from any cooking areas when in use.
By adhering to the above information and preventative tips, you will be able to minimize your risks of ever experiencing a house fire. Sharing this information will also enable you to help others from putting their homes and lives at risk. In addition, you can help spread awareness of fire safety by sharing this year's Fire Prevention Week campaign:
About Fire Prevention Week
Fire Prevention Week has been sponsored by the NFPA since 1922 and is the longest running public health and safety observance on record. Every year, a week in October is dedicated to spreading awareness about the many causes of fire and how it can be prevented.
This year's Fire Prevention Week campaign, "Don't Wait – Check the Date! Replace Smoke Alarms Every 10 Years," represents the final year of the three-year effort to educate the public about the fundamental elements of smoke alarm safety.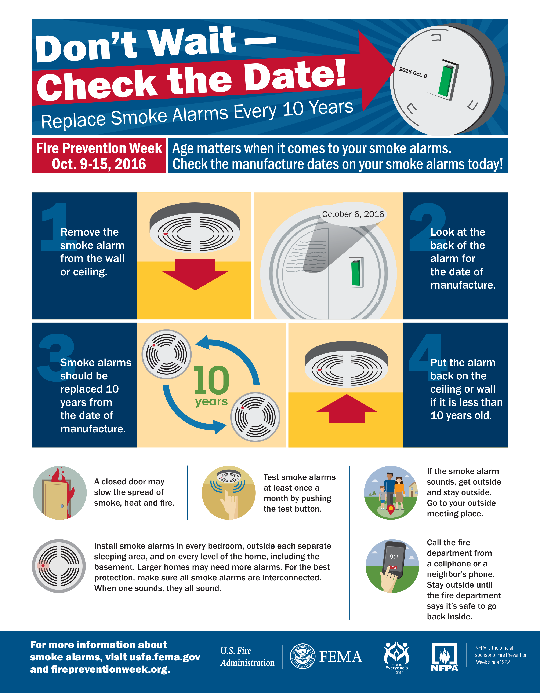 If your home or building has been impacted by fire damage, Cornerstone Appraisal and Restoration Services can help.
Click here to learn more about our Fire Damage Services.